What's Nearby
Convenience stores &markets
One Stop Convenience Shop, North Marine Road. Opens 6am-10pm. 0.1 miles
Tesco Express, Castle Road. Opens 7am-10pm. 0.4 miles
Scarborough Market Hall, St Helen's Square. 0.5 miles
Sainsbury's Supermarket, Falsgrave Road.1 mile
Restaurants &Cafes
North Bay Cafe, North Marine Road. 0.1 mile
The Albert Pub, North Marine Road. 0.1 mile
North Bay Fisheries, Columbus Ravine 0.2 miles
Marks Fish and Chips Cafe, Castle Road. 0.2 miles
The Cowshed Scarborough (American British, Veg friendly) Cafe, St Thomas Street. 0.2 miles
Tikka Tikka (Indian) Restaurant, Castle Road. 0.2 miles
Kam Sang (Chinese) Restaurant. North Marine Road. 0.2 miles
Peaches n Cream Tea room, Peasholm Gap 0.4 miles
Giannis (Italian) Restaurant, Victoria Road. 0.5 miles
North Bay is a sandy beach with rocky outcrops to the north which become isolated at high tide and provide rock pool areas at low tide. To the south, there is a flat sandy area which leads onto rock armour and continues around the headland to South Bay. The main road around the headland runs parallel to the beach with ample parking provided. The beach is used by a wide range of users, from families through to recreational water sports enthusiasts, with there being a number of beach chalets available for hire.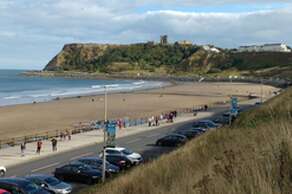 Scarborough Cricket Festival at Scarborough Cricket Club
The Scarborough Cricket Festival is an end of season series of cricket matches featuring Yorkshire County Cricket Club, which has been held in Scarborough since 1876. The annual Scarborough Cricket Festival is one of the most historic sporting events in the world, and over the years has played host to some of the world's greatest cricketers. The ground, situated at North Marine Road, has seen large crowds of holiday makers watching first class cricket since 1876 - and with the stands built right to the boundary edge, it offers exceptional views and unique atmosphere.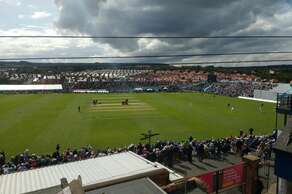 Peasholm Park has a tranquil lake and in the summer months people can hire boats of all sorts to enjoy the water at close quarters. Boats include traditional rowing boats and canoes but pedaloes with dragon heads are available too and these prove to be very popular with summer visitors and locals alike. If you don't fancy pedaling then go for a sail in the Swan launch where you can relax on the water and let someone else steer the boat. There is a bandstand in the middle of the lake and music concerts which are free of charge can often be heard during the summer season.
Scarborough SEA Life Sanctuary
Scarborough SEA LIFE Sanctuary is a unique indoor and outdoor attraction ideal for a family day out as well as an unforgettable entertaining and educational experience. Loved for its aquarium, the center is also home to a number of other attractions such as the Penguin Island, Great Barrier Reef exhibit, and even a seal hospital where you can see rescued seals in rehabilitation.
Alpamare Water Park and Wellness Spa
Alpamare Water Park is the biggest, the wettest, the fastest, the warmest, the cleanest, the waviest, the newest, the funnest, and the most unlike-any-waterpark-you-have seen before water park.
The Stephen Joseph and YMCA Local Theatres
With over 2,500 years of turbulent history behind it, Scarborough Castle defends a prominent headland between the north and south bays, with sheer drops to the sea. Before the castle was built, this natural fortress was favoured by prehistoric settlers before serving as a Roman signal station and Viking haven. This spectacular castle has also endured sieges from medieval kings and Civil War armies, and German naval bombardment during WWII. Today you can climb to the battlement viewing platforms for dramatic coastline views, and take tea in the 18th-century Master Gunner's House.
South sands is a large sandy bay with good facilities, child friendly amenities and is popular with families. There is a working inner harbour with a small fishing fleet and outer harbour for pleasure boats and yachts. There are boat trips around the bay or along the coast. A handy cliff lift provides easy access to the town centre in minutes.

The historic Spa lies at the south end of the beach which holds live entertainment and houses the famous Spa Orchestra during the summer season. The Spa a widely used conference venue for the town. Heading north along the beach you will find amusements cafes and restaurants along with the traditional seaside stalls selling delights from cockles and winkles to sweets such as Scarborough rock and fudge.
Scarborough Open Air Theatre
Scarborough OAT has built a reputation as a concert venue worthy of hosting household names from all corners of the world of music.
Scarborough Golf & Mini Golf
Crazy Golf
If you are going to visit the Scarborough North Bay for the day then have a walk around the Peasholm Park area and North Bay promenade and you will pass a few mini golf courses. You will pass pirate crazy golf courses, small and easy crazy golf courses, putting greens and pitch 'n'put courses.

Scarborough Golf
The closest golf course to Scarborough that includes a driving range is at Snainton Golf Centre (YO13 9BE).
There are two golf courses based in Scarborough, there's the North Cliff golf club (YO12 6PP), and the South Cliff golf club (YO11 2UE).
There is one other golf course close to Scarborough which comes recommended;this course is based in Hunmanby. This course is a nine-hole course around the grounds of Hunmanby Hall (YO14 0HZ). The Hunmanby Hall golf course is a pay and play course and is great for beginners.
Kayak Hire (by Dexters Surf Shop)
Explore and enjoy nature in your own time and at your own pace by hiring a kayak in Scarborough.
North Bay Miniature Railway
Travel on Britain's most historic seaside miniature railway running for 3/4 mile through the North Bay at Scarborough, with spectacular views of Scarborough's North Bay, historic headland &Scarborough Castle.
Cleveland Way - National Trail
The Cleveland Way is 109 miles/176km long, with points of interest every step of the Way, enjoying the North York Moors and Coast. Starting from the attractive market town of Helmsley, The Cleveland Way heads across the stunning North York Moors, before reaching the coast at Saltburn. From here there's a visual feast along the dramatic North Yorkshire coastline to Filey, passing old fishing villages and lively coastal towns.
Our Facilities
Contact Details
Arran B&B, Scarborough
114 North Marine Road
Scarborough
North Yorkshire
YO12 7JA